[Product Introduction]
  This product is a compound alkali with the following characteristics:
  1. It is easy to use, and the usage amount is about one-tenth of soda ash, which reduces labor and storage space.
  2. The fixation curve has the characteristics of steady and slow rise during dyeing. The dyeing safety factor for reactive dyes is higher than that of soda ash (not easy to flower hair).
  3. The color fastness is the same as that of soda ash.
  4. The color reproducibility of the sample and workshop production is high.
  5. This product does not contain any prohibited ingredients.
  6. Compared with the cost of soda ash, it saves about 1/3.
  [Product traits]
  Composition: compound alkali
  Appearance: white powder
  Solubility: very soluble in water
  [Scope of Application]
  Suggestion table for the amount of sodium sulfate (salt)/alkali of various yarns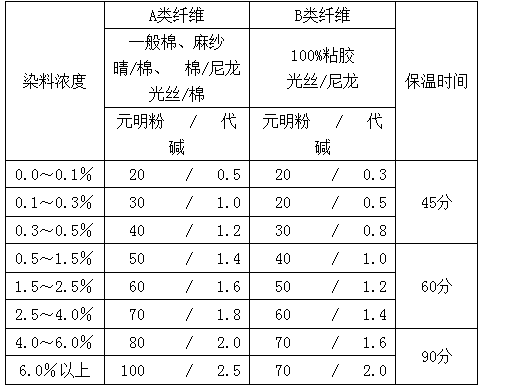 [Packaging and Storage]
  Packing: 25kg/bag
  Storage: If stored properly in a sealed original container at 0~40℃, its storage period is at least one year.